The Great Northern Railway built 53 of Patrick Stirling's famous 'Singles' at its Doncaster Works between 1870 and 1895. These elegant machines, with their single 8ft 1in diameter driving wheels, handled fast trains on the East Coast route for many years, with the last not being retired until the early years of the 20th Century.
Pioneer Stirling 'Single' No. 1 was set aside for preservation in 1907. Shortly afterwards, the locomotive underwent minor restoration which removed some in-service modifications bringing the appearance of No.1 closer to the day when it was first built. However, at this time, it was also paired with a smaller tender obtained from an earlier locomotive and it was with this tender that the locomotive is perhaps best known. The 'Sturrock tender' – so-called because it was designed by Archibald Sturrock – remained with the locomotive for nearly all of its time in preservation.
No. 1 was displayed at the White City Exposition in 1909. It was steamed in 1925 as part of the Stockton & Darlington Centenary celebrations and, in 1938, was overhauled for the 50th anniversary of the Races to the North celebrations. Since then, GNR No. 1 has been in steam several times with the last occasion being in 1985, prior to which the locomotive had been operating on the Great Central Railway, the North Yorkshire Moors Railway and at the National Railway Museum, York. The locomotive has subsequently been displayed at the NRM's York and Shildon sites.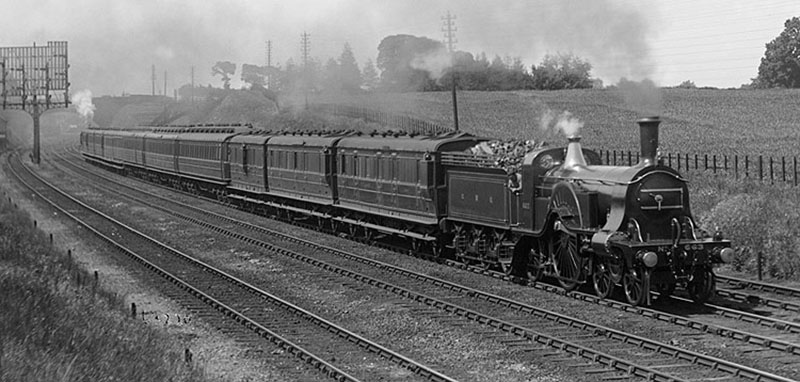 An original, correct, Stirling 'Single' tender was found derelict near Peterborough, having somehow survived as a water and sludge carrier. This tender has been restored by the NRM and is currently displayed with No. 1.
Rapido Trains worked in partnership with Locomotion models and the National Railway Museum to produce a high quality 'OO' gauge model for the National Collection in Miniature series.
The Stirling 'Single' model has been designed using a combination of archival materials and drawings, state-of-the-art laser 3D scanning techniques and CAD applications. The model replicates, in ultra-fine detail, the locomotive as it is preserved today with Stirling tender at the NRM. Sadly, the production run has sold out and is no longer available new.
Specifications:
• Laser 3D scanned for accuracy
• Smooth running mechanism
• Suitable for operation on 2nd Radius curves (438mm or greater)
• Accurate, fine scale precision livery application
• DC of factory fitted with ESU DCC sound decoder
• Accurate sounds obtained from archival footage