Rapido Trains UK is proud to announce that the '00' Gauge GNR Stirling Single No.1 will be returning in all its glory and in an all-new small tender version.
Striling Sturrock 001 decorated
Striling Sturrock 003 decorated
GNR and Pre-grouping fans will finally be able to get their hands on a ready-to-run model of No.1 in the same condition as it was restored to in the 1930s. Paired with a small tender, No.1 had remained in this condition for most of its life in preservation. Despite it being discovered in the 1970s that this tender wasn't meant to be coupled to this railway icon, it wasn't until many years later, in 2014, that the Stirling Tender Project actually returned it to its prototypical and current preserved condition that we know it as today.
Prior to withdrawal, No.1 had a standard large Stirling tender of 1891 design, but in preparation for the White City Exhibition of 1909 an old tender was found, which had previously been used behind the Doncaster Carriage Shunter, Hawthorn 0-4-2, No 112A. This consisted of a goods tender chassis with 3ft 7in wheels with a small well tank designed for a passenger tender.
MP40763 No.1 at Kings Cross.-(ZF-10462-91413-1-001)
GB584C GNR 1 Stirling single (RF) Peterborough 11-9-38-(ZF-10462-91413-1-004)
GB584B GNR 1 Stirling single (RF) Peterborough 11-9-38-(ZF-10462-91413-1-003)
Stirling Single MP40760-(ZF-10462-91413-1-002)
GB845 GNR 1 Stirling single (LF) tn entg Peterborough 11-9-38-(ZF-10462-91413-1-005)
So, the tender attached to No.1 had no historical claim to be paired with the locomotive prior to the White City Exhibition, but as it was thought no legitimate tender remained at this point, it sufficed. It did so for many years until a historically correct version was discovered.
Incredibly it had been discarded rather unceremoniously in a siding just outside of Peterborough.
With over 80 years being coupled to the smaller of the two tenders, it is fair to say that many enthusiasts associate No.1 with this longstanding low-profiled counterpart, remembering it fondly from visits to the National collection or enthusiast events.
To quote Mr. Richard Gibbons, who penned the conservation report on the Stirling Single for the NRM: "The Sturrock tender currently with the locomotive is an anachronism that has been perpetuated for so long now that it has acquired its own historical legitimacy."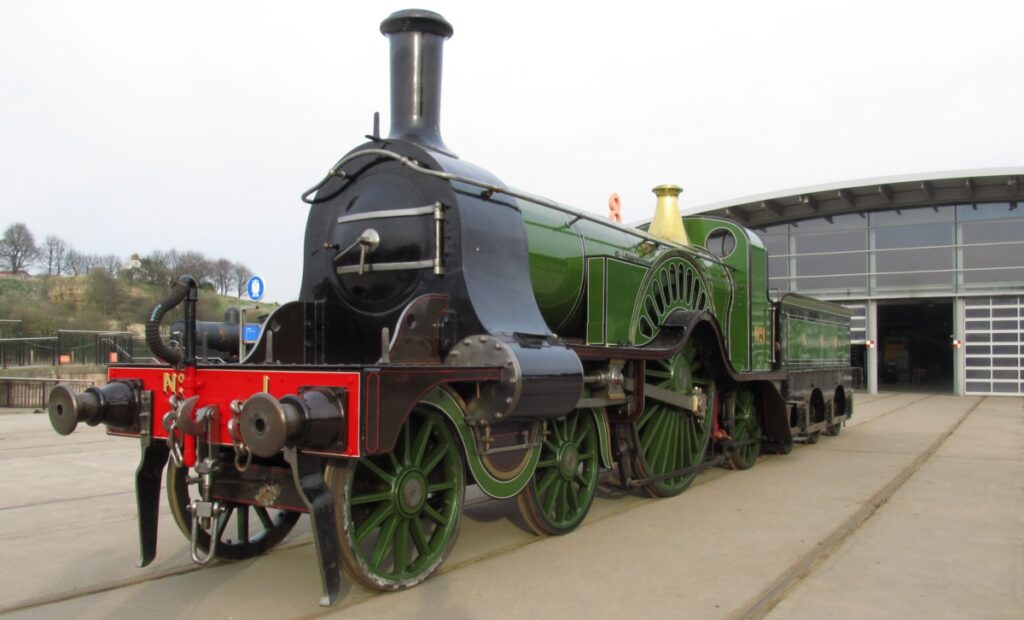 As keen railway enthusiasts, everyone at Rapido Trains UK is very pleased to be able to tell the full story of this beautiful machine in model form. We have worked in partnership with Locomotion Models and the National Railway Museum to produce a high-quality OO Gauge rendition of a truly special locomotive.
Order your model now by clicking on the item below:
To cover the locomotive's full history Locomotion Models will also be stocking a small second run of the immensely popular Museum Condition, large tender preserved variant that Rapido Trains produced several years ago. To find out more about about the Museum Condition model please visit the LOCOMOTION MODELS website.