We wondered 'which of our modern wagons could we shrink down to 'N' in order to complement our forthcoming 'Peaks'?'
There was really only one choice: the 45t Open AB open wagon, better known as 'OAA'. This was BR's first fully air-braked wagon. Ashford Works built the 100 new OAAs (Nos. 100000-100099) in 1971.
These wagons were long for a four-wheel open, with a 20ft 9in wheelbase. They were BR's first fully air-braked wagon and had upgraded running gear to cope with higher speeds.
We're delighted that our new 'N' gauge model captures the distinctive look of the real thing, with its mix of steel ends and wooden doors. Despite being much smaller, we've been able to include much of the underframe and pipework detail from our 'OO' model on to this smaller version, too.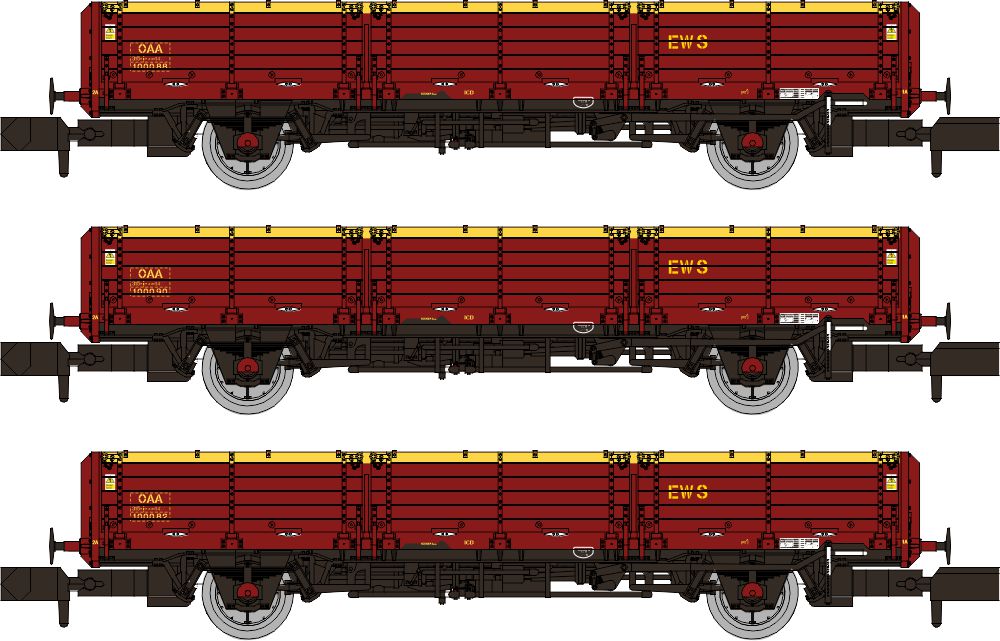 We've carefully selected the liveries to reflect the changing roles that the 'OAAs' fulfilled. These include the yellow spot on bauxite to reflect the heady days of BR's 'Air Braked Network', the classic red and grey of the 1980s Railfreight era, the grey and yellow of Departmental duties to EWS maroon of the early-2000s, when 'OAAs' could still be found in frontline service.
There are six different livery packs available, each pack containing three 'OAAs' (naturally with different running numbers!) so that you can assemble realistic looking trains with the minimum of fuss.
Order your model now by clicking on the item below:
Rainbow Railways have also taken an exclusive run in BR Bauxite with Corpach Pool Lettering which can be found on their website below (external link)
https://rainbowrailways.co.uk/product/rapido-trains-uk-918003-gwr-dia-aa20-toad-no-68784-east-depot-gw-grey-large-n-gauge/