Rapido is pleased to announce a new batch of our first 1:76 scale model bus, the Birmingham City Transport (BCT) 'New Look' Guy Arabs.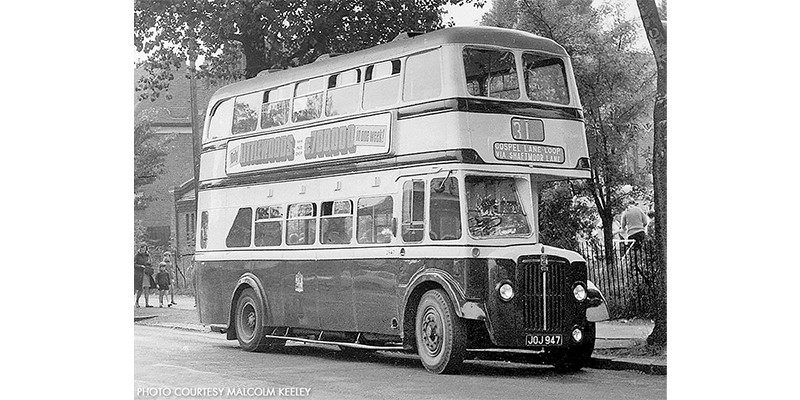 Rapido-Bus-Header 800x400
JOJ-947-Malcolm-Keeley 800x400
With the word 'FORWARD' emblazoned beneath its coat of arms, the city of Birmingham was seen to be industrial and technological hub of the United Kingdom. Reflecting this, these buses, with their concealed radiators, made the bus industry sit up and take notice.
Under development from 1948 and delivered from 1950, the 'New Look' buses gained their nickname from fashion designer Christian Dior's 'New Look' dresses of the late 1940s. The BCT 'New Look' had a radical impact on bus development in the 1950s, with variations of the front appearing all over the country in subsequent years.
Rapido's model depicts a Birmingham 'New Look' body built by Metro-Cammell fitted to a Guy Arab IV chassis, one of 200 delivered between 1952 and 1954 (Registrations JOJ 901-999, LOG 300 and MOF 3-102). These stylish buses featured one-piece body construction, a seating capacity of 55 (30 upper and 25 lower), and a tough Gardner 6LW engine. They were rugged and loud, growling through the streets of Birmingham for an entire generation.
Just as the Birmingham 'New Look' revolutionised bus design, Rapido Trains Inc. presents a radically different approach to British bus models. Our model is based on a 3D scan of the real JOJ 976, part of the Transport Museum, Wythall collection. This has ensured that our model perfectly replicates the complex curves of the front and rear domes and the 'New Look' bonnet that made this vehicle such a revelation some 70 years ago.
Specifications:
• 100% accurate proportions based on laser-scans of the real thing
• Injection-moulded plastic and metal construction
• All body weld lines, extrusions and rivets accurately rendered
• Full, multi-coloured interior with no large posts blocking aisles
• Separate etched-metal interior grab poles
• Steerable front wheels with rubber tyres
• Flush glazing throughout
• Accurate, even paint finish that does not obscure the details
• Several routes/destinations available
• Working headlamps & interior lighting
• Illuminated destination blinds
• Requires a 9V 500mA DC power supply (not included)
Available now. Order your model now by clicking on the item below: